A Word For Every Storm
$14.99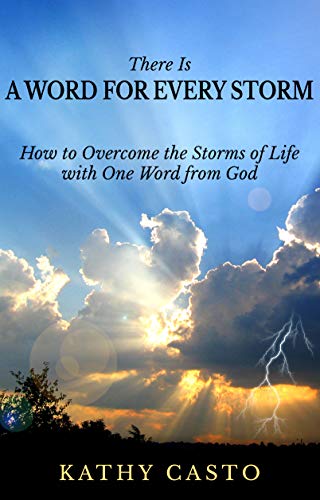 Total without tax:
$10.00
Description
If you are making a purchase today, please consider writing a review on Amazon on how this book impacts your life.
Thank You,
J&K
---
Kathy Casto
Are you facing life's storms? Are you in a crisis you don't know how to get out of? Can you survive the bashing and find hope for a better tomorrow?
Storms of sickness, financial distress, marital problems, and others can hit us when we least expect. The tumultuous rains and winds can pound us so hard, we want to buckle under the pressure and give up. When one storm ends, another always seems to brew on the horizon. What can you do?
There Is a Word for Every Storm is a bold, life-defining book that reveals the secret to overcoming the storms in your life. It shows you how to rise above the threatening circumstances that come against you, your family, business or career.
This powerful prayer resource will inspire you to speak specific scriptures to your specific problems for actual, dynamic results to your prayers. You will learn the principles of praying the Word of God to break the strongholds of fear, addiction, depression, oppression, temptation, and more.
No matter what you are facing, how hurt, overwhelmed or confused you may feel, you can take authority and change the course of your life because the Word is always stronger! Use it against the Enemy and get the phenomenal results you need.
Also, learn how to:
Find the strength within to bring peace to your storm and affect change
Identify the true source of your crises that caused the storm
Discover the power and strength of a specific word for each specific storm
Receive the divine strategy within the storm
Reviews
There are yet no reviews for this product.